Manufacturing Facilities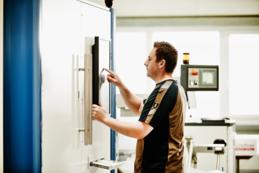 We use our manufacturing facilities and in-house developed dental alloys to be able to address customer feedback and offer individual solutions. The in-house production and processing via our modern, highly-automated manufacturing facilities allows us to produce your very own product to the highest quality and with excellent precision. It is possible to assemble alloys individually, deal with them in line with customer feedback and continue to process them.

We also offer the production of powders in various qualities and grain size distributions.

Various in-process controls, from the raw material check, to intermediate checks during production, right up to end product quality checks, guarantee that our products are manufactured to the highest quality and purity, fulfilling specific specifications.
Our manufacturing facilities and our network permit the following production processes:
Continous casting
Investment casting
Metalwork: turning, separating, milling, grinding, marking
Heat treatment
Atomisation of metallic powders
Classification and Distribution of powders
Product identification

Further quality features are an environmentally friendly manufacturing process, product-specific investigations, as well as regular checks and monitoring of all outsourced processes.