About us

For more than 30 years, the name S&S Scheftner GmbH has stood for the production of high-quality dental products. Over the years, we have demonstrated our excellent service, technical support and continuous developments, which make the company a dependable supplier and able partner. In the last 20 years, S&S Scheftner has been working hard on holding an outstanding position in the business of producing non-noble dental alloys, as per the Medical Device Directive 93/42 EEC.
We continuously rise to the challenge of promptly spotting future developments and trends and adapting these for the largest possible benefit of our customers and partners. By cooperating with universities and renowned machine manufacturers, we are constantly broadening our expertise. Our longstanding experience in the base metals industry and our continuous developments from conventional casting technology, to CNC milling, up to powder for additive manufacturing technology, make us one of the leading companies in the base metals industry.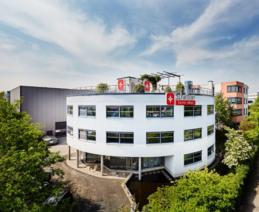 Our products are manufactured using modern, fully automated manufacturing facilities. Their high quality and precision set them apart from the crowd. Various in-process controls, from the raw material check, right up to end product quality checks, guarantee that our products are manufactured to the highest quality. We implement customer feedback by assembling alloys individually and manufacturing powders with various grain size distributions. Further quality features are an environmentally friendly manufacturing process as well as product-specific investigations, up to the issuing of technical documentation. Nowadays, S&S Scheftner offers a wide range of non-noble dental alloys that fulfil all legal criteria and are produced in Germany to dental laboratories, milling centres and OEM partners. These alloys are for all processing technologies, from conventional casting techniques, to milling, right up to additive manufacturing using 3D-Printing such as selective laser melting (SLM*).
SLM* registered trademark of companies: Realizer GmbH, 33178 Borchen, GE and SLM Solutions Group AG, 23556 Lübeck, GE Register no.: 30094322